A visibly pissed-off girl approached me after a talk I gave last year. She asked me to clarify a slide that said, "Facebook rewards quality not quantity."
I told her that, for some reason, every organisation thinks they need to post on Facebook every day. This takes up a lot of time and reduces your organic reach, leaving you with only the most loyal fans, those who actually want to hear from you 300+ times a year.
And while loyal fans are amazing, you need to reach luke-warm fundraising prospects too.
I showed her examples of pages that posted once a week and had hundreds of people engaging with every post. She shook her head and said,
"We paid a consultant a lot of money to tell us to post twice a day."
This explained her frustration and, I thought, the source of the problem. Most Facebook page admins have heard something similar and went with the herd.
The frustrating thing for me was my own answer. It was a bit of a my-word-versus-theirs situation. Scrolling through a few isolated examples on my Samsung wasn't very convincing. I didn't have irrefutable proof that less was more.
But that is no longer the case.
An email from Rival IQ (a competitor analysis tool for social) arrived in my inbox and hijacked my morning. There are a lot of fluffy social media reports, but this review of Facebook data from last year is cold and precise. It looks at the performance of 8,000 Facebook pages.
It's broken up into six-colour coded segments, so you can compare your performance with about 1,500 pages of a similar-size... a brilliant idea.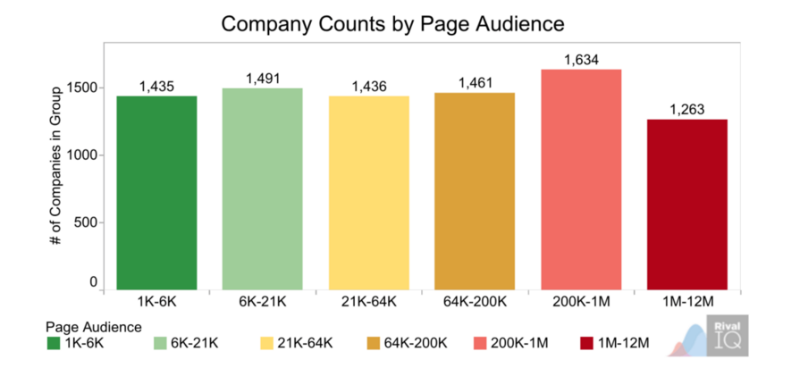 The best segment of the report is titled: Posting Frequncy - Is More Really More?
It contains the below graph, which shows that in 5 of the 6 segments, companies that post less than once a day achieve higher engagement rates than everybody else.
And those that post less than 0.5 times per day have even higher engagement.

The pages which post less frequently are on the left here.
So let's assume that you have a Facebook page with less than 200k followers and post 3 or less times per day and look at the trend again.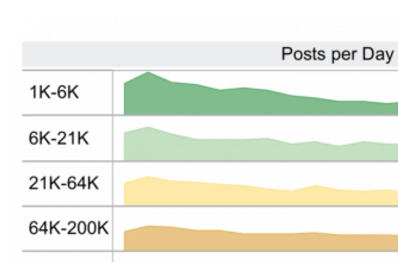 Now it's obvious. More is less effective. As Rival IQ themselves put it:
"The takeaway is that each extra post per day gets diminishing returns."
A major factor in this is that most business and charities just don't have enough interesting things to tell their followers. They might have one good video or image or article for the upcoming week, yet will still struggle their way to getting five average-to-poor posts up.
Then every time a follower scrolls past one of their boring/self-promotional posts, Facebook assumes that followers isn't interested in any of their content. And the next genuinely good post reaches less people.
It's a vicious circle. The way to end it...is to show people the above graph.
Although knowing how many professional-protectors-of-the-status-quo work, I realised people would ask, but what about the last group? How come people with over a million followers can post as often as they like?
Fortunately, Rival IQs report had an answer for that too - media companies.
They post aggressively on social media.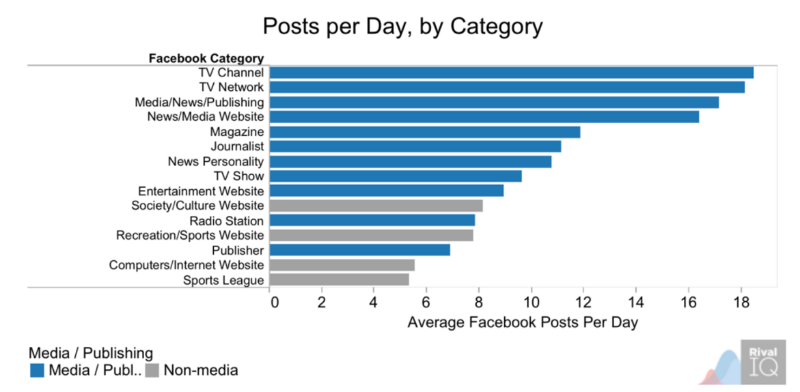 And because their business model revolves around producing interesting content (it's not just a bolted-on marketing activity) and they have entire departments employed to do this, with very broad remits, they can maintain a level of quality and across a higher quantity of posts.
Brands like Paddy Power have put themselves in this bracket also, last I heard they had 150+ online marketing staff.
The problem is that people (and people's managers) see a lot more of large media brands on Facebook than mid-sized companies. And it's logical to assume that these large media brands are experts, who really know what they're doing, so mid-sized companies try to emulate them.
This is, in my opinion, is the real reason people feel under pressure to post on Facebook every day.
But, as the Rival IQ report concluded:
"When it comes to analyzing Facebook, it would be easy to lump all pages together in an attempt to find overarching trends. The truth is, Facebook is not one-size-fits-all. When it comes to benchmarking and setting goals, it's important to compare your brand to similar brands."
The key is to pick a posting frequency that fits your resources.
---
If you found this interesting and want a broader, more comprehensive view of digital fundraising, then download this eBook: